Taj Mahal

Taj Home

History

Architecture

Taj Museum

World Heritage Site

Taj Mahal Myths

Impression of Taj

General Travel Info

Taj Online Tour

Photo Gallery

360° Virtual Tour

Celebrities at Taj

Near by Monuments

Akbar's Tomb

Photo Gallery

360° Virtual Tour
Radha Swami's Samadhi

Photo Gallery

360° Virtual Tour
Itmad-Ud-Daulah's Tomb

Photo Gallery

360° Virtual Tour
Agra Fort

Photo Gallery

360° Virtual Tour
Fatehpur Sikri

Photo Gallery

360° Virtual Tour

General Links

About Us

Recommend Site

Contact Details

Email Us

Our Network

India

Taj Mahal

New Delhi

Vini Infinity InfoTech

Jindal Crafts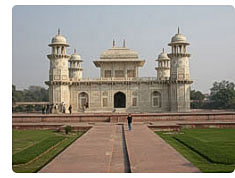 Itmad-ud daulah, one of the most beautiful of Mughal tombs, stands across the river Yamuna from the Taj Mahal, nearly one and a half kilometers up-stream. Belonging to the age of Jahangir, it contains cenotaphs of Mirza Ghiyas and Asmat Begum, parents of the powerful Mughal Empress Nurjahan queen of Jahangir, an exceptional beauty and an astute administrator. The tomb marks a significant departure from the tombs of the Mughal dynasty built before its construction.
History
The tomb of Itmad-ud-Daulah is as interesting as the life of the person for whom it was built. Mirza Ghiyas-ud-din or Ghiyas Beg (later known as Itmad-ud-Daulah) was a poor merchant and lived in Persia (modern-day Iran). While on his way to India for business, his wife gave birth to a baby girl. As the family was extremely poor and had nothing to eat, the parents decided to abandon the child. However, the wails of the baby girl forced the parents to come back and take her with them. The baby girl brought a stroke of good luck to her parents, for Ghiyas Beg found a caravan that straightaway took him to the court of the great Mughal Emperor, Akbar. In the course of time, Ghiyas Beg rose to become a minister and a trusted treasurer in Akbar's court. After Akbar's death in 1605, his son Jahangir became the Mughal emperor, who made Ghiyas Beg his chief minister or Wazir. Ghiyas Beg was also honored with the title of Itmad-ud-Daulah or the pillar of the state.
Ghiyas Beg's daughter grew up to be a beautiful lady and came to be known as Mehr-un-Nissa or the sun of womankind. In the course of time, the fame of her beauty spread. She was married off, but she soon became a widow. She returned to the court of Jahangir where her father was employed. Emperor Jahangir fell in love with her and married her. She soon became a powerful personality in Jahangir's court and was called Nur Mahal, the light of the palace, and Nur Jahan, light of the world. When Ghiyas Beg (Itmad-ud-Daulah) died in 1622, Nur Jahan undertook the project to build his mausoleum. Later she built the tomb of her husband (in a similar style) in Lahore. Nur Jahan had a brother whose daughter was married to Jahangir's son, Shahjahan. She was known as Mumtaz Mahal in whose memory Shahjahan built the world famous Taj Mahal.
Itmad-ud-Daulah was buried in a tomb that resembles a jewel box and set in a garden. This tranquil, small, garden located on the banks of the Yamuna was to inspire the construction of the Taj Mahal in the later years. It is the first tomb in India built entirely in white marble. The tomb is also justly famous for the glorious pietra dura (stone inlay) decoration depicting cypresses, wine glasses, and an amazing variety of geometrical arabesque. The jali screens set in arched recesses are splendid. Four small minarets rise at the four corners of the small tomb structure. The whole structure gives the impression of an enlarged precious object. Due to the profusion of intricate work done on marble and the beautiful marble screen-work, the tomb easily qualifies as a veritable forerunner of the famous Taj Mahal.
Architecture
The pure white and elaborately carved tomb of Itmad-ud-Daulah conforms to the Islamic style of architecture. The use of arched entrances, octagonal shaped towers or minarets, use of exquisitely carved floral patterns, intricate marble-screen work and inlay work are all representative of the Islamic style. The absence of a dome and the presence of a closed kiosk on top of this building and the use of chhatris (small domed canopies, supported by pillars) atop the four towers (minarets) instead of proper domes are reflective of local influence.
Travel Information
Timing: Sunrise to sunset

Entry Fees: Foreigners - Rs 110/-, Indians - Rs 10/-
Children below 15 years of age are allowed free entry.

Days of opening: Open on all Days
Please remember: Generally Tour Operators don't include Itmad-Ud-Daulah Tomb's visit in their tour package. This monument is really beautiful and IndiaVirtualTour.com suggests you visit this monument also to complete your Agra visit. Please insist your tour operator to include Itmad-Ud-Daulah in your Agra tour.
SubscribeNewsletter