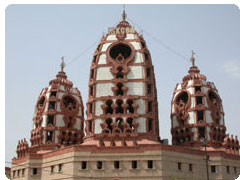 Built in 1998, the temple complex of Isckon stands at Hari Krishna Hill, Sant Nagar Main Road, East of Kailash. The magnificent temple has 'Shikharas' at a height of 90-feet above the ground level. The hall of the temple is centrally air-conditioned with a capacity to accommodate about 1,500 people.

There are beautiful paintings of Russian artists on the different past times of Radha Krishna, Sita, Ram, Laxman, Hanuman and Chaitanya Mahaprabhu. Special programmes like kirtan, aarti, pravachan and prasadam are held every Sunday between noon to 3.00pm.

The temple is dedicated to Lord Krishna and was built by the Hare-Rama Hare-Krishna cult followers.This complex is elegantly built and is one of the largest temple complexes in India. Currently the main attraction of the temple is the Robot who enacts and preaches the Gita.