National museum is Delhi's largest museum and provides vast storehouse of information of India's history and culture. Packed with exhibits ranging over five thousand years,one must be prepared to spend several hours here. It is located in Janpath and is closed on Mondays.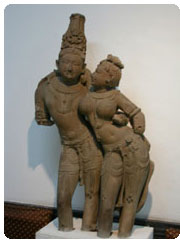 The National Museum has an amazing collection of Indian art and sculpture, which dates back from the prehistoric times and the priceless collection is spread over the three floors of the museum.

The ground floor has several galleries, each dedicated to a particular period in history. These galleries display rare pieces from the Paleolithic Age to the Mughal period. The most famous sculpture on this floor could be the Dancing Girl from Mohenjodaro, 2,500 BC. The Mughal period is depicted and displayed in vivid details in the paintings and Arabian manuscripts.Of special interest is the superb Central Asian Gallery that exhibits the silk banners, sculpture and wall paintings that form part of Sir Aurel Stein's collection, brought to India in the early part of the 20th century.

A new gallery has been added to the ground floor, which is the Jewellery section. The first floor contains a varied collection of Indian miniature paintings from different schools, Mughal, Rajasthani and Pahari. Also catch a glimpse of simple stone neolithic Tools (3,000-1,500 BC) and shell and bone jewellery excavated from the sites of Mohenjodaro and Harappa belonging to India's earliest civilization- the Indus Valley (2,500 BC).

Carved pillars and statues of the Mauryan dynasty can also be seen over here. Bronzes from South India, an impressive collection of stone sculpture, miniature paintings, textiles, coins and tribal art from part of its extensive collection.

The next floor is perhaps the best one, with a terrific display of weapons and costumes of the historical periods. There is a sales counter and library on the ground floor Another section of the gallery has a display of over 300 musical instruments.

There are film shows on the art heritage of India on weekdays at 2:30 pm, on Saturdays and Sundays at 11:30 am, 2:30 pm and 4:00 pm.
Visiting Hours: 10:00 am to 5:00 pm (Mondays Closed)

Entry Fees: Foreigners - Rs 150/-, Indians - Rs 10/-, Students - Rs. 1/-

Photography / Videogrpahy: Still camera for foreigners - Rs. 300/- per camera, Still camera for indians - Rs. 20/- per camera. Vidow camera is prohibited.